Events

See our
events calendar here
.
Current Scheduled Events:
---
Ohio Fuzzy Pawz at Dublin Pet Fair
Sunday September 26th, 2021 12:00 PM until 04:00 PM
Location: Coffman Park Pavilion
Map:
5200 Emerald Parkway Dublin OH 43017
See all of the
animals attending
this event.
So much to see, so much to do! This event is jam-packed with activities.
The Dublin Pet Fair is an annual event to celebrate pets in Central Ohio. There will be 30 rescues attending, Ohio Fuzzy Pawz included, and many pet related vendors as well.
There will be demos on dog training, flyball, & agility throughout the day. Vendors will be doing demos relating to pet nutrition and pet behavior.
The fair is free to the public and dogs are welcome.
This is a not for profit event. All money raised by the Dublin Pet Fair will fund a spay/neuter clinic.
Admission is free!
Click here for more information
---
OFP at the 2022 Columbus All American Pet Expo
Friday March 11th, 2022 10:00 AM until Sunday March 13th, 2022 05:00 PM
Location: Ohio Expo Center - Bricker Building
Map:
717 E 17th Ave Columbus OH 43211
See all of the
animals attending
this event.
2022 All American Columbus Pet Expo
Join us for the 25th Anniversary of the largest Pet expo in the USA!
Look for the Ohio Fuzzy Pawz booth in the Mega Pet Adoption section on the left side of the building across from the IJA Grooming area. This will be a great opportunity for you to meet dogs available for adoption through our rescue. Our dogs are in foster homes which provides us with the knowledge to help match your family and lifestyle with the best breed, age and temperament of a dog. Consider a rescue dog and adopt before you shop!
​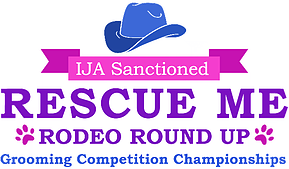 As always, Ohio Fuzzy Pawz dogs will be participating in the Rescue Me Rodeo Roundup Grooming Competition Championship that is IJA sanctioned and highlights the talents of groomers and brings attention to rescued dogs who need homes. Groomers do their magic to transform our dogs that are available for adoption.
Ticket information will be forthcoming.
Click here for more information